Diarrhea & Dizziness: Causes & Treatments You Should Know In 2023
A person suffering from diarrhea and dizziness

Photo: Shutterstock
Diarrhea is never welcome, and with dizziness, you wonder if you are sick with the flu. Symptoms of abdominal cramping, intestinal muscle spasms, loose stools, stomach pain, and dizziness can occur. We want to immediately stop these and other symptoms and return to life as usual, away from the bathroom. Now let us dive a little deeper into the links between diarrhea and its associated symptoms and causes, the most current and effective treatments for diarrhea recommended by recent research and healthcare providers.
Can Diarrhea Cause Dizziness?
Diarrhea can cause dizziness.
Dizziness is a result of dehydration caused by diarrhea.
Dehydration results from loss of fluid and electrolytes without being replaced.
The fluid and electrolyte imbalance causes dizziness.
The Link Between Diarrhea And Dizziness
What is diarrhea? Diarrhea[1] is loose, watery stools three or more times a day which is acute, persistent, or chronic." It may start quickly with little warning or be associated with another illness, such as a bacterial or viral infection. The main symptoms associated[2] with this include:
Abdominal pain/stomach cramps.
Fever.
Nausea.
Vomiting.
Fatigue.
Fecal urgency and incontinence.
One effect of diarrhea is dehydration.[3] This is not taking in enough liquids to replace what's lost through diarrhea. An electrolyte imbalance from dehydration can cause low blood pressure, light-headedness, dizziness, or imbalance.
Malabsorption[4] may present with diarrhea and cause stomach pain, bloating, and gas. The inability to absorb nutrients causes stools to pass too quickly and frequently.
What Causes Diarrhea And Dizziness?
There are three categories of diarrhea:
Acute: Lasts less than 14 days. Commonly caused by bacteria, viruses, or parasites. Contaminated food or water are the usual suspects here. Mishandling food, unclean surfaces, and improper hand-washing techniques in preparing food can cause food poisoning, resulting in diarrhea. Travelers' diarrhea[5] is in this category; 10% to 40% of travelers get diarrhea.
Persistent: Diarrhea for over two weeks but less than four. Causes may be similar to acute infections but include medication reactions, e.g., antibiotics, antacids, or cancer medications.[3]
Chronic: Lasts beyond four weeks. Chronic diarrhea[6] is related to medical conditions such as inflammatory bowel disease and irritable bowel syndrome,[7] Crohn's disease,[8] or celiac disease.[9] IBS, dizziness, and diarrhea can coexist with several other processes, making it a complex subject to study. Food allergies and intolerances, as well as long-term use of pharmaceuticals, also cause chronic diarrhea.
Since one complication of diarrhea is dizziness from dehydration, how does it cause light-headedness? Dehydration from fluid loss causes an electrolyte imbalance, e.g., sodium, potassium, magnesium, and chloride loss.[3] These necessary elements are physiologically proportioned for proper bodily function.
Other symptoms of dehydration,[3] like thirst, fatigue, feeling lightheaded, fainting, and lower urine output, may present differently for adults than for children.[10]
Featured Partner Offer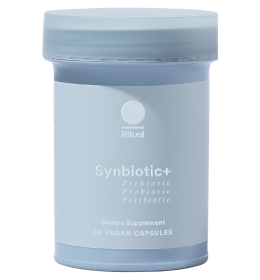 Ritual Synbiotic+
3-in-1 formula: prebiotics, probiotics, and probiotics
Supports a balanced gut microbiome
Supports bloating, gas, and diarrhea
Supports the growth of beneficial gut bacteria
Vegan and Third-party tested
Get 25% Off First Month By Using "FALL25" at Checkout
How Do You Know If Diarrhea Is Serious?
Most people will experience diarrhea at some point in their lives, which often resolves over a day or two. However, it can become a serious health concern if it becomes persistent or chronic or if more serious symptoms accompany it. Abdominal pain is always concerning, and medical professionals often refer to these symptoms as red flag[2] symptoms to identify medical emergencies:
Blood or pus in stool.
Fever over 102 degrees F, i.e., 38.9 C.
Signs of dehydration.
Chronic diarrhea.
Weight loss.
Lasting more than two days for adults or 24 hours for children.
Frequent vomiting.
Any of the above symptoms means it is time to get professional medical treatment.
Treatments
Acute Diarrhea Treatment
Treatment for acute diarrhea can often be managed from the privacy of your home, a positive when you prefer to stay home. Some fast remedies, like eating a BRAT — i.e., bananas, rice, applesauce, toast — diet, contain complex carbohydrates and digest slower. They are easier on the stomach, reducing stomach pain and other symptoms. However, this should be used in those for whom these items are already a part of the diet. BRAT alone can result in malnutrition if prolonged and is outdated for the pediatric population.
Anti-diarrheal over-the-counter medications can be helpful in the short term for acute diarrhea. However, you should not take OTC medications[11] for red-flag bacterial or parasitic infection symptoms. Instead, see your doctor.
Replacing fluids and electrolytes is important, so experts recommend drinking fruit juices and consuming clear broth to avoid dehydration. Avoid the following foods that can worsen diarrhea:
Alcoholic beverages.
Drinks and foods containing caffeine.
Dairy products such as milk, cheese, and ice cream.
Fatty and greasy foods.
Drinks and foods containing fructose.
Fruits such as apples, peaches, and pears.
Spicy foods.
Diet drinks, sugarless gum, and candies containing sorbitol, mannitol, and xylitol sweeteners.
Although not a dietary consideration, do not smoke,[12] as nicotine is a stimulant.
Chronic And Persistent Diarrhea Treatment
Managing chronic and persistent[11] versus acute diarrhea is different because they are typically related to infection, a medical condition, or a chronic disease or disorder. Antibiotics and medications to treat bacterial, e.g., E. coli,[13] or parasitic, e.g., Giardia,[14] infections are prescribed once doctors target the cause of persistent diarrhea. Chronic conditions that cause chronic diarrhea, such as Crohn's disease, IBS, or ulcerative colitis, are managed by prescribed medications.
Notably, IBS/IBD, while often associated with diarrhea, can cause constipation, i.e., less than normal bowel movements. Treating or managing IBS/IBD-related constipation with probiotic supplementation is a more natural approach than drugs.
Non-Medication Related Treatment For Diarrhea
Recent research shows the benefit of natural options or remedies to manage chronic diarrhea. These include probiotics,[15] diet, or fiber supplements to improve GI tract health, AKA the gut. The normal gut balance shifts with diarrhea, and it is necessary to repair its natural microbiome[16] for optimal function.
Probiotic supplements help to balance the gut bacteria and improve health, but the quality of the product is essential. Look for the proper mix of the best bacterial strains. Gummies might do the trick if pills and powders are not your favorite supplements. More than one strain of bacteria is desirable; for example, Bio Complete has been shown to help with IBS.
Diet management: Using food as medicine is a fantastic way to improve gut health. Fermented foods like sauerkraut contain live bacteria that promote GI tract health. Non-fermented foods like leafy greens can help decrease stomach inflammation to heal the gut.
In a recent study, fiber Supplements decreased the effects of diarrhea in at-risk hospitalized patients receiving tube feeding. Psyllium improves bulk in the gut to decrease diarrhea and is beneficial through supplementation.[17] Highly recommended Colon Broom is an example of a fiber supplement that offers long-term gut benefits and relieves diarrhea.
When To Find A Doctor
You should seek medical care if you have experienced diarrhea for over two days. Red flag symptoms indicate a more serious condition or infection. These include a fever of 102 degrees F, blood or pus in the stool, symptoms of dehydration, and vomiting A proper diagnosis may require stool and blood tests.
The Takeaways
Electrolytes and fluid replacement are essential. Dizziness is a symptom associated with diarrhea and the resulting dehydration and electrolyte imbalance. It is common with dehydration.
Categories of diarrhea are acute, persistent, and chronic. Treatment is different depending on the cause or the category. Home remedies like a BRAT diet can relieve early symptoms in the short term for adults, but more serious conditions will require specific treatment, and children should not follow the BRAT diet. Medication can be required if diarrhea is caused by an infection or is related to a chronic condition.
Research shows that non-medication options for diarrhea help. Treatment focuses on Improving gut health, decreasing stomach inflammation, and supporting small intestines' and large intestines' healing. Probiotic foods and supplements, as well as fiber supplementation, offer long-term relief. Probiotic supplements should be carefully chosen based on quality and evidence-based ingredients.
Frequently Asked Questions
Is dizziness common with diarrhea?
While dizziness is often associated with problems of the inner ear, e.g., Meniere's disease, it is also common with diarrhea due to dehydration from fluid loss, electrolyte imbalance, and low blood pressure.
Why do I sweat and feel sick when I poop?
Diarrhea is associated with other symptoms like abdominal cramping and pain, fever, nausea, and vomiting. Sweating is related to the body's nervous system response.
Why do I feel dizzy and tired after diarrhea?
Dizziness and fatigue can result from diarrhea due to dehydration, loss of fluid, and an imbalance in electrolytes.
What drinks are good for rehydration after diarrhea?
Electrolyte drinks, fruit juices, and clear broths are helpful for diarrhea.
Should I see a doctor if I have diarrhea, dizziness, and vomiting?
If diarrhea occurs with more severe symptoms like vomiting, dizziness, abdominal pain, or gastrointestinal bleeding, it could indicate an infection, and you should see a doctor ASAP.
What if I have sudden diarrhea and dizziness?
Sudden diarrhea and dizziness can result from traveler's diarrhea caused by food or water contamination. It often resolves in a day or two. If it continues or worsens, you should see a doctor.
Resources
and, D. (2023). Diarrhea – NIDDK. [online] National Institute of Diabetes and Digestive and Kidney Diseases. Available at: https://www.niddk.nih.gov/health-information/digestive-diseases/diarrhea.
and, D. (2023). Symptoms & Causes of Diarrhea. [online] National Institute of Diabetes and Digestive and Kidney Diseases. Available at: https://www.niddk.nih.gov/health-information/digestive-diseases/diarrhea/symptoms-causes.
and, D. (2023). Symptoms & Causes of Diarrhea. [online] National Institute of Diabetes and Digestive and Kidney Diseases. Available at: https://www.niddk.nih.gov/health-information/digestive-diseases/diarrhea/symptoms-causes#:~:text=People%20with%20diarrhea%20caused%20by,light%2Dheadedness%20and%20dizziness.
Zuvarox, T. and Belletieri, C. (2023). Malabsorption Syndromes. [online] Nih.gov. Available at: https://www.ncbi.nlm.nih.gov/books/NBK553106/.
Alexander, Amy A.M. Leung, Wong, A. and Hon, K. (2019). Travelers' Diarrhea: A Clinical Review. Recent Patents on Inflammation & Allergy Drug Discovery, [online] 13(1), pp.38–48. doi:https://doi.org/10.2174/1872213×13666190514105054.
Chu, C., Rotondo-Trivette, S. and Michail, S. (2020). Chronic diarrhea. Current Problems in Pediatric and Adolescent Health Care, [online] 50(8), pp.100841–100841. doi:https://doi.org/10.1016/j.cppeds.2020.100841.
Quigley, M. (2016). Overlapping irritable bowel syndrome and inflammatory bowel disease: less to this than meets the eye? – Eamonn M. M. Quigley, 2016. [online] Therapeutic Advances in Gastroenterology. Available at: https://journals.sagepub.com/doi/full/10.1177/1756283X15621230.
Jamanetwork.com. (2023). Available at: https://jamanetwork.com/journals/jama/article-abstract/2774686.
Lebwohl, B. and Rubio-Tapia, A. (2021). Epidemiology, Presentation, and Diagnosis of Celiac Disease. Gastroenterology, [online] 160(1), pp.63–75. doi:https://doi.org/10.1053/j.gastro.2020.06.098.
Levine, A.C., Barry, M.A., Gainey, M., Sabiha Nasrin, Qu, K., Schmid, C.H., Nelson, E.J., Stephanie Chow Garbern, Mahmuda Monjory, Rosen, R.K. and Alam, N. (2021). Derivation of the first clinical diagnostic models for dehydration severity in patients over five years with acute diarrhea. PLOS Neglected Tropical Diseases, [online] 15(3), pp.e0009266–e0009266. doi:https://doi.org/10.1371/journal.pntd.0009266.
and, D. (2023). Treatment for Diarrhea. [online] National Institute of Diabetes and Digestive and Kidney Diseases. Available at: https://www.niddk.nih.gov/health-information/digestive-diseases/diarrhea/treatment.
Case, K., Clendennen, S.L., Tsevat, J. and Harrell, M.B. (2022). Risk of respiratory, gastrointestinal, and constitutional health symptoms: A cross-sectional study of Texas adolescent and young adult nicotine and marijuana vapers. Preventive Medicine, [online] 159, pp.107057–107057. doi:https://doi.org/10.1016/j.ypmed.2022.107057.
Hossein Akhondi and Simonsen, K.A. (2023). Bacterial Diarrhea. [online] Nih.gov. Available at: https://www.ncbi.nlm.nih.gov/books/NBK551643/#:~:text=The%20most%20frequently%20identified%20organisms,of%20Shiga%2Dtoxin%20producing%20E.
Anon, (2023). General Information. [online] Available at: https://www.cdc.gov/parasites/giardia/general-info.html#:~:text=Giardiasis%20is%20a%20diarrheal%20disease,for%20weeks%20or%20even%20months.
Feng, X., Zhuang, L., Chen, L., Zhao, H., Huang, R. and Guo, Z. (2022). Comparison of different probiotics in the treatment of acute diarrhea in children. Medicine, [online] 101(11). doi:https://doi.org/10.1097/md.0000000000028899.
Shreiner, A.B., Kao, J.Y. and Young, V.B. (2015). The gut microbiome in health and in disease. Current Opinion in Gastroenterology, [online] 31(1), pp.69–75. doi:https://doi.org/10.1097/mog.0000000000000139.
Garg, P. (2021). Inflammation in Irritable Bowel Syndrome (IBS): Role of Psyllium Fiber Supplementation in Decreasing Inflammation and Physiological Management of IBS. The Turkish journal of gastroenterology : the official journal of Turkish Society of Gastroenterology, [online] 32(1), pp.108–110. doi:https://doi.org/10.5152/tjg.2020.20229.