Total Restore Reviews (Gundry MD) 2023: Does It Help Gut Health?
When you use our links to make product purchases, we receive a commission as part of our affiliate program. For more information,  please refer to our advertising disclaimers.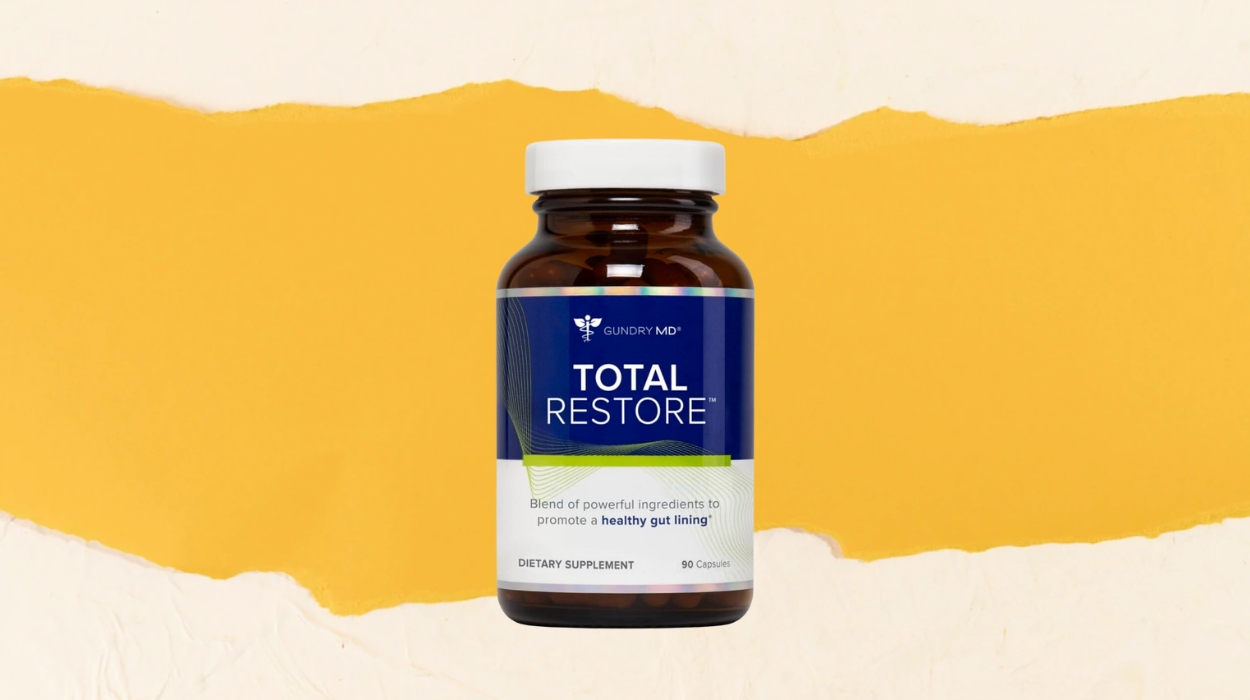 Total Restore improves digestion, joint health, and cognition.

Photo: Team Design
If you are curious about how to improve gut health, you may be overwhelmed with the variety of products on the market. Finding one dietary supplement to support digestion can be time consuming and costly.
This is why Gundry MD developed Total Restore, a comprehensive gut supplement with a blend of ingredients to improve energy levels, meet weight loss goals, and promote healthy gut bacteria. They claim to do so by restoring the gut lining and thereby improving a proposed[1] medical condition caused by increased intestinal permeability or a leaky gut.
But is Total Restore worth the high price tag?
In this article, we will explore Total Restore reviews, Gundry MD, and the evidence behind the natural ingredients they use. This will help you decide if Total Restore fits your weight loss goals and supports your gut health plan.
Improves cognitive function
Supports joint health
Antimicrobial, antifungal, and antiinflammatory effects
Not all claims backed with scientific evidence
High price
Potential for drug interactions and contains shellfish, leading to allergic reactions
Gundry MD Total Restore Reviews
Quality
Gundry MD is transparent about the quality of its supplements. Total Restore is GMP-certified, meaning the product is manufactured using industry best practices. Additionally, Total Restore is tested for quality and purity at an independent, 3rd-party facility.
Total Restore is sugar-free, artificial sweetener-free, lectin-free, soy-free, and dairy-free, but this does not mean it is not allergen-free. This supplement contains active ingredients derived from shellfish, so individuals with shellfish allergies should be aware they should not take this gut health supplement. Users have complained of ingredient allergies, resulting in skin rashes and digestive issues.
Total Restore Ingredients Analysis
Magnesium Beta-Hydroxybutyrate
Magnesium Beta-Hydroxybutyrate assists with improving energy, focus, mood, and weight loss through the exogenous supplementation of ketones.
As you have probably heard, the ketogenic diet is a popular diet that restricts carbohydrates. Therefore, you enter into a state of ketosis, where your body switches to burning fat for energy instead of glucose. Ketosis results in the production of ketones; one of the significant ketones produced is beta-hydroxybutyrate.[2]
Researchers[3] found that supplementing with beta-hydroxybutyrate may have similar positive effects to the natural production of beta-hydroxybutyrate through the ketogenic diet. Positive effects include decreasing body fat and lowering lipid blood levels.
Beta-hydroxybutyrate has been shown to improve cognitive health[4] by enhancing memory,[5] focus, attention, and learning. Studies have also demonstrated that it may help reduce depression by reducing neuro-inflammation associated with stress, thereby improving mood.
Magnesium also has many mental health benefits that have been well-researched,[6] such as improving depression[7] and anxiety disorders, and may also enhance the quality of sleep.[8]
PepZin GI
PepZin GI is a blend that contains zinc and L-carnosine. Both ingredients improve[9] the gastrointestinal lining and ease symptoms of a leaky gut. Research[10] has shown that PepZin GI can help maintain, restore, and prevent damage to the cells that line the gastrointestinal tract, making it a potent ingredient for improving digestive health through restoration of the natural gut barrier.
L-Glutamine
L-glutamine[11] is an amino acid that is produced in the body and plays a vital role in maintaining a healthy gut lining. Supplementation with L-glutamine modulates gut permeability, reduces oxidative stress, and restores the gut lining.
L-glutamine has been shown to help with junk food cravings because of its ability to quickly and easily convert[12] to glucose. When a craving hits for sugar or refined carbohydrates, L-glutamine can rapidly curb this craving. This means it may stop you from reaching for less nutritious foods high in sugar and carbohydrates. This may help with decreased appetite, food intake, and weight loss.[13]
N-Acetyl-D-Glucosamine
N-acetyl-d-glucosamine is a compound derived from shellfish. It may ease joint pain and promote gut health. A study[14] on the effect of supplementation in healthy patients showed an improvement in cartilage metabolism, improving joint pain in those with joint disease.
Regarding overall gut health, N-acetyl-d-glucosamine can promote intestinal cell growth,[15] prevent bowel infections,[16] and reduce digestive symptoms. A study[17] examining its effects in patients with inflammatory bowel disease, found that when combined with mesalamine, it significantly reduced symptom severity through its antiinflammatory and antioxidant effects.
Grape Seed Extract
The seeds of grapes are highly rich in polyphenols. Specifically, Proanthocyanidins promote health by boosting the body's natural healing mechanisms. Polyphenols help with digestive complaints and can be found in other foods and drinks, such as dark chocolate, hazelnuts, and even red wine, which may help digestion.
The grape seed extract in Total Restore contains 95% Proanthocyanidins, a powerful antioxidant shown[18] to promote wound healing, reduce inflammation, have cardioprotective effects, treat peptic ulcers, and prevent infections.
Licorice Root Extract
Licorice root extract is one of the oldest natural remedies with anti-inflammatory[19] properties that promote healing and regeneration of many tissues, including the digestive tract. Two active compounds in licorice root, glabridin and glabrene, reduce[20] symptoms of dyspepsia. It also may improve[21] gut microbiota and treat certain gastrointestinal infections, especially when combined with walnut leaf extract.
Wormwood
If you are interested in how to clean out bowels quickly, look no further than wormwood. Wormwood has been used for medicinal purposes for centuries. It is best known[22] for its antimicrobial properties, and ability to treat intestinal infections, particularly intestinal worms.
Cinnamon Bark Powder
Cinnamon bark powder is best known for easing digestive upset, diarrhea, and gas. If you have ever wondered, "Why does my stomach hurt when I wake up?" cinnamon bark powder might help you.
A study[23] exploring its impacts on Irritable Bowel Syndrome demonstrated it may result in improvements in bowel symptoms such as abdominal pain and gut motility.
Cinnamon has anti-inflammatory and anti-arthritic[24] properties that may help with joint pain. In a study[25] examining its effects in women with rheumatoid arthritis, supplementation reduced tenderness and swelling in joints.
Maitake Mushroom Extract
Maitake mushrooms are a fungus with abundant nutrients that are said to lower cholesterol levels, reduce high blood pressure, and boost the immune system. A growing body of research[26] supports these claims, although much of this is based on animal studies..
VitaBerry
Vitaberry is a blend of organic strawberry, blueberry, raspberry, tart cherry, elderberry, and cranberry packed with antioxidants. The natural pigments in fruit, such as carotenoids, flavonoids, and anthocyanins, have been shown[27] to have antiviral, antibacterial, and anti-inflammatory properties.
Cloves
Cloves[28] have a wide range of bioactive compounds known for their antimicrobial capabilities. Recent research[29] has demonstrated its potential utility as an antiviral agent against COVID-19 due to its immunostimulatory and antithrombotic effects.
Black Pepper Fruit Powder
Black pepper is a well researched spice that has many medicinal properties. One of the active compounds in pepper is piperine,[30] which gives it a spicy flavor. It is a powerful antioxidant that helps gastrointestinal[31] issues such as bloating, diarrhea, and nausea.
Grapefruit Seed Extract
Grapefruit seed extract is an extremely concentrated form of grapefruit that contains chemical compounds known as polyphenols[32] with potent antiviral[33] and antifungal[34] effects.
Marshmallow Root Powder
Marshmallow root is an herb commonly used for medicinal purposes. Research[35] has demonstrated its protective properties for treating gastrointestinal ulcers. This is due to specific vitamins and antioxidants, which prevent cell damage, and specific plant compounds, such as tannins, that foster a healthy mucosal lining in the digestive system.
Support Research
| | |
| --- | --- |
| Claimed Benefits Of Total Restore | |
| Reduce gas and bloating | Moderate Evidence |
| Boost energy and focus, and improve mood | Concrete Evidence |
| Prevents hunger cravings | Moderate Evidence |
| Support joint comfort | Concrete Evidence |
Claimed Benefits
Reduce Gas & Bloating
If you want to get rid of gas and bloating, Total Restore has many herbs that directly reduce these symptoms, such as cinnamon and black pepper. Adding wormwood, clove, and berberine, aimed at balancing the gut microbiome with strong antimicrobial, antifungal, and antiparasitic properties, may also reduce gastrointestinal symptoms associated with a gut infection. These more robust herbs may have side effects,[36] such as nausea, bloating, diarrhea, or constipation.
A reduction in bloating and gas from Total Restore depends on the root cause of an individual's bloating and gas. Total Restore's all-in-one approach may benefit some, but those lacking certain beneficial bacteria may be harmed by the antimicrobial ingredients in this mix.
Boost Energy & Focus, And Improve Mood
Boosting energy and focus can be achieved through two mechanisms of this gut health supplement: the direct effects of magnesium beta-hydroxybutyrate and the secondary effects of improving the gut microbiome and improving immune function and overall health.
Improved digestion often frees up energy for individuals and makes them feel better overall. Studies have shown that beta-hydroxybutyrate enhances[37] memory, focus, and attention. The claims that the active ingredients in Total Restore can boost mood are supported by research. Multiple studies have found that magnesium[38] and beta-hydroxybutyrate[39] improve mood symptoms.
Prevent Hunger Cravings
Total Restore's only ingredient aimed at curbing hunger cravings is L-glutamine. Although there is some research to support these claims, most of the studies have been on individuals with diabetes, which may impact the results of these studies regarding craving control. The science behind this claim is a little shaky and needs further research to be fully supported.
Support Joint Comfort
Total Restore uses multiple active ingredients to target inflammation and joint health, mainly N-Acetyl-D-Glucosamine which has been demonstrated[40] to improve cartilage production; cinnamon, which has anti-arthritic[41] properties, and many other anti-inflammatory ingredients such as black pepper, VitaBerry, grape seed extract, and licorice root. Overall, Gundry MD has included many active ingredients that support joint health.
Gundry MD Total Restore Reputation
Total Restore was designed by Dr. Steven Gundry, a former cardiac surgeon with over 30 years of experience. He left clinical medicine when he saw the drastic improvements in his patients' health when they implemented dietary changes. Dr. Gundry designed Gundry MD and Total Restore to help patients achieve vibrant health through diet and lifestyle changes.
Gundry MD has a strong reputation. Gundry MD is also registered with the Better Business Bureau. The Better Business Bureau gave Gundry MD an A+, and customers rated this company a 3.94/5, demonstrating its reliable, positive, and trusted reputation.
Most Dr Gundry Total Restore reviews are positive and claim benefits such as weight loss, increased focus, improved digestion, and appetite suppression. On the other hand, Total Restore negative reviews have claimed they saw no weight loss, others complained of increased digestive issues, while others stated that, overall, they saw no beneficial effects.
Price
Total Restore has many active ingredients that are science backed, but also many ingredients with some more skewed scientific results. One bottle of Total Restore costs $69.95, and for this price, most customers want to be sure this product will deliver.
Unfortunately, just like Gundry MD's website says, it is hard to predict how each individual will react to this gut health supplement. Reviews on Total Restore have been mixed. For some, it might be a life-changing addition to a healthy lifestyle, yet for others, it might give abysmal results.
The only way to find out if Total Restore is worth the price is to try it for yourself. The 90-day money-back guarantee makes trying the supplement relatively risk free.
Alternatives To Total Restore
Multi GI 5
Improves overall health by maintaining healthy gut
Manages food cravings
Boosts focus and energy
Expensive
Limited sales in stores, this supplement is harder to access
Morning Complete
90-day money back guarantee
Both IUD types are safe for trans
Antioxidants
Aloe vera may not be safe to consume for every individual
Expensive for monthly supply
Bio X4
Gluten-free
Organic ingredients
90-day money back guarantee
Limited scientific evidence to support claims
Only available online
How Does Total Restore Work?
Total Restore was designed to be a daily gut-support formula with a healthy lifestyle and diet. It contains various ingredients that may help boost energy, restore gut microbiome balance, promote joint health, and improve digestion. The extracts were selected for easy digestion so that individuals will feel the benefits quickly.
Potential Side Effects
Total Restore has ingredients that are likely safe for most healthy individuals. Beta-hydroxybutyrate has been proven[42] safe at relatively high doses in most individuals.
Commonly reported side effects, like bowel consistency or abdominal upset changes, are likely to be minor. There are relatively small amounts of each ingredient in the supplement blend, so strong reactions are unlikely unless an individual is allergic to shellfish. Always check the complete ingredient list for potential allergens before adding to your healthcare routine.
An important caveat is that many ingredients are known to cause interactions with prescription medications. This includes N-Acetyl-D-Glucosamine, grape seed extract,[43] and licorice root extract.[44] Check in with your doctor for harmful interactions or other potential problems before starting new supplements.
Health Benefits Of Gundry MD Total Restore
Gundry Total Restore reviews have been positive regarding potential health benefits. The blend of antimicrobial and antifungal herbs may help users restore a healthy bacterial balance in their digestive tract, healing issues with gut permeability known as leaky gut.
The ingredients may also help reduce inflammation and improve immune function. Antiinflammatory ingredients may help reduce inflammation in the gut, leading to improved digestion and reduction in uncomfortable symptoms like bloating and gas
How To Take Total Restore
Total Restore is designed to be taken with your biggest meal. Gundry MD recommends taking all three capsules at once. If you prefer breaking it up, you can take a single pill with each meal.
Conclusion
Total Restore has ingredients linked to improving digestive function, reducing inflammation, improving cognitive performance, and supporting joint inflammation.
Although the science isn't perfect for every ingredient in this blend, the positive reviews from users who have transformed their gut health support the potential benefits.
If you are dealing with uncomfortable digestive issues and have discussed the potential benefits of Total Restore with your healthcare provider, this supplement may be worth trying.
Frequently Asked Questions
Will Total Restore help me lose weight?
Total Restore contains ingredients with some scientific evidence that may help support weight loss. This includes Magnesium beta-hydroxybutyrate and L-glutamine. All supplements should be combined with a healthy lifestyle and diet to promote overall health.
What to expect when taking Total Restore?
As with other nutritional supplements, Total Restore may take months to show optimal results, although many users claim to feel benefits within a few weeks for their poor gut health.
Is Total Restore safe to take?
Total Restore is likely safe for most healthy individuals who are not on any medications that may interact with the ingredients of this supplement and are not allergic to shellfish. The ingredients are tested for quality and purity and have a minimal side effect profile. Before starting new supplements, check in with your doctor to avoid harmful interactions, allergic reactions, and unwanted side effects.
What is the best time to take Total Restore?
Gundry MD recommends taking Total Restore in the morning with breakfast for the best results. The recommended three capsules can be separated and taken throughout the day without ill effects.
Does total restore cause constipation?
Dr. Gundry Total Restore reviews have reported unwanted side effects such as constipation, diarrhea, and bloating. They claim to normalize bowel movements and improve digestion, so if you begin experiencing constipation after starting Total Restore, stop it immediately and check in with your doctor.
How do you know if you have a leaky gut?
A leaky gut is not a proper medical diagnosis but a proposed medical condition caused by the weakening of the intestinal walls. Many functional medicine providers recognize and treat the disease with nutritional supplements and diet changes. Symptoms may include chronic diarrhea, constipation, bloating, joint pain, and skin problems.
Resources
Camilleri, M. (2019). Leaky gut: mechanisms, measurement and clinical implications in humans. Gut, [online] 68(8), pp.1516–1526. doi:https://doi.org/10.1136/gutjnl-2019-318427.
Newman, J.C. and Verdin, E. (2017). β-Hydroxybutyrate: A Signaling Metabolite. Annual Review of Nutrition, [online] 37(1), pp.51–76. doi:https://doi.org/10.1146/annurev-nutr-071816-064916.
de, R., Medeiros, C., Silva, Andreotti, S., Rogério Antônio Laurato Sertié, Gabriela Boltes Reis and Fábio Bessa Lima (2017). Oral β-hydroxybutyrate increases ketonemia, decreases visceral adipocyte volume and improves serum lipid profile in Wistar rats. Nutrition & Metabolism, [online] 14(1). doi:https://doi.org/10.1186/s12986-017-0184-4.
Murray, A.J., Knight, N., Cole, M.A., Cochlin, L.E., Carter, E., Kirill Tchabanenko, Tica Pichulik, Gulston, M.K., Atherton, H., Schroeder, M.A., Robert, Yoshiaki Kashiwaya, King, M., Pawlosky, R.J., Rawlins, P., Tyler, D.J., Griffin, J.L., Robertson, J., Veech, R.L. and Clarke, K. (2016). Novel ketone diet enhances physical and cognitive performance. The FASEB Journal, [online] 30(12), pp.4021–4032. doi:https://doi.org/10.1096/fj.201600773r.
Hu, E., Du, H., Shang, S., Zhang, Y. and Lu, X. (2020). Beta-Hydroxybutyrate Enhances BDNF Expression by Increasing H3K4me3 and Decreasing H2AK119ub in Hippocampal Neurons. Frontiers in Neuroscience, [online] 14. doi:https://doi.org/10.3389/fnins.2020.591177.
A. Botturi, Ciappolino, V., Delvecchio, G., Boscutti, A., Viscardi, B. and Brambilla, P. (2020). The Role and the Effect of Magnesium in Mental Disorders: A Systematic Review. Nutrients, [online] 12(6), pp.1661–1661. doi:https://doi.org/10.3390/nu12061661.
Nutritional Neuroscience. (2013). Magnesium and depression: a systematic review. [online] Available at: https://www.tandfonline.com/doi/abs/10.1179/1476830512Y.0000000044.
Neil Bernard Boyle, Lawton, C. and Dye, L. (2017). The Effects of Magnesium Supplementation on Subjective Anxiety and Stress—A Systematic Review. Nutrients, [online] 9(5), pp.429–429. doi:https://doi.org/10.3390/nu9050429.
Skrovanek, S.M. (2014). Zinc and gastrointestinal disease. World Journal of Gastrointestinal Pathophysiology, [online] 5(4), pp.496–496. doi:https://doi.org/10.4291/wjgp.v5.i4.496.
Hewlings, S. and Kalman, D. (2020). A Review of Zinc-L-Carnosine and Its Positive Effects on Oral Mucositis, Taste Disorders, and Gastrointestinal Disorders. Nutrients, [online] 12(3), pp.665–665. doi:https://doi.org/10.3390/nu12030665.
Deters, B. and Saleem, M. (2021). The role of glutamine in supporting gut health and neuropsychiatric factors. Food Science and Human Wellness, [online] 10(2), pp.149–154. doi:https://doi.org/10.1016/j.fshw.2021.02.003.
Amanda Nunes Santiago, Aparecida, V., Mariana Fachin Milani, Cristina, V., Vanessa Rodrigues Vilela, Montserrat, M. and Roberto Barbosa Bazotte (2013). Oral Glutamine Is Superior Than Oral Glucose to Promote Glycemia Recovery in Mice Submitted to Insulin-Induced Hypoglycemia. International Journal of Endocrinology, [online] 2013, pp.1–7. doi:https://doi.org/10.1155/2013/841514.
Hamed Jafari‐Vayghan, Parisa Varshosaz, Fatemeh Hajizadeh-Sharafabad, Hamid Reza Razmi, Mahdi Amirpour, Omid Mohammad Tavakoli‐Rouzbehani, Alizadeh, M. and Maleki, V. (2020). A comprehensive insight into the effect of glutamine supplementation on metabolic variables in diabetes mellitus: a systematic review. Nutrition & Metabolism, [online] 17(1). doi:https://doi.org/10.1186/s12986-020-00503-6.
Daiki Kubomura, Ueno, T., Yamada, M., Tsuji, A. and Nagaoka, I. (2017). Effect of N-acetylglucosamine administration on cartilage metabolism and safety in healthy subjects without symptoms of arthritis: A case report. Experimental and Therapeutic Medicine, [online] 13(4), pp.1614–1621. doi:https://doi.org/10.3892/etm.2017.4140.
Wang, Z., Hu, J., Yang, X., Yin, L., Wang, M., Yin, Y., Li, J., Yang, H. and Yin, Y. (2022). N-Acetyl-D-glucosamine improves the intestinal development and nutrient absorption of weaned piglets via regulating the activity of intestinal stem cells. Animal Nutrition, [online] 8, pp.10–17. doi:https://doi.org/10.1016/j.aninu.2021.04.008.
Sicard, J.-F., Philippe Vogeleer, Guillaume Le Bihan, Yaindrys Rodríguez Olivera, Beaudry, F., Jacques, M. and Harel, J. (2018). N-Acetyl-glucosamine influences the biofilm formation of Escherichia coli. Gut Pathogens, [online] 10(1). doi:https://doi.org/10.1186/s13099-018-0252-y.
Roy, S., Suneela Dhaneshwar, Mahmood, T., Kumar, S. and Saxena, S.K. (2022). Pre-clinical investigation of protective effect of nutraceutical D-glucosamine on TNBS-induced colitis. Immunopharmacology and Immunotoxicology, [online] 45(2), pp.172–184. doi:https://doi.org/10.1080/08923973.2022.2128370.
Gupta, M., Dey, S., Daphisha Marbaniang, Pal, P., Ray, S. and Mazumder, B. (2019). Grape seed extract: having a potential health benefits. Journal of Food Science and Technology, [online] 57(4), pp.1205–1215. doi:https://doi.org/10.1007/s13197-019-04113-w.
Wahab, S., Sivakumar Annadurai, Shahabe Saquib Abullais, Das, G., Ahmad, W., Ahmad, F., Kandasamy, G., Vasudevan, R., Ali and Amir, M. (2021). Glycyrrhiza glabra (Licorice): A Comprehensive Review on Its Phytochemistry, Biological Activities, Clinical Evidence and Toxicology. Plants, [online] 10(12), pp.2751–2751. doi:https://doi.org/10.3390/plants10122751.
Cherry, R., Blanchard, S., Ashish Chogle, Santucci, N.R., Mehta, K.Y. and Russell, A. (2022). Herbal Approaches to Pediatric Functional Abdominal Pain. Children (Basel), [online] 9(8), pp.1266–1266. doi:https://doi.org/10.3390/children9081266.
Authier, H., Bardot, V., Berthomier, L., Bertrand, B., Blondeau, C., Holowacz, S. and Coste, A. (2022). Synergistic Effects of Licorice Root and Walnut Leaf Extracts on Gastrointestinal Candidiasis, Inflammation and Gut Microbiota Composition in Mice. Microbiology spectrum, [online] 10(2). doi:https://doi.org/10.1128/spectrum.02355-21.
Gaber El‐Saber Batiha, Olatunde, A., Amany El‐Mleeh, Hetta, H.F., Al‐Rejaie, S.S., Alghamdi, S., Muhammad Zahoor, Amany Magdy Beshbishy, Murata, T., Adrián Zaragoza-Bastida and Nallely Rivero-Pérez (2020). Bioactive Compounds, Pharmacological Actions, and Pharmacokinetics of Wormwood (Artemisia absinthium). Antibiotics, [online] 9(6), pp.353–353. doi:https://doi.org/10.3390/antibiotics9060353.
Yu, L., Huang, C., Weng Lang Yang, Ren, Z., Li, L., Cheng, H., Lin, C., Zhai, L., Ning, Z., Hoileong Xavier Wong, Han, Q.-B., Jia, W., Bian, Z. and Zhao, L. (2023). Aqueous cinnamon extract ameliorates bowel dysfunction and enteric 5-HT synthesis in IBS rats. Frontiers in Pharmacology, [online] 13. doi:https://doi.org/10.3389/fphar.2022.1010484.
Sharma, H., Chauhan, P. and Singh, S. (2018). Evaluation of the anti-arthritic activity of Cinnamomum cassia bark extract in experimental models. Integrative medicine research, [online] 7(4), pp.366–373. doi:https://doi.org/10.1016/j.imr.2018.08.002.
Journal of the American College of Nutrition. (2018). Cinnamon Consumption Improves Clinical Symptoms and Inflammatory Markers in Women With Rheumatoid Arthritis. [online] Available at: https://www.tandfonline.com/doi/abs/10.1080/07315724.2018.1460733.
Wu, J., Ka Chai Siu and Geng, P. (2021). Bioactive Ingredients and Medicinal Values of Grifola frondosa (Maitake). Foods, [online] 10(1), pp.95–95. doi:https://doi.org/10.3390/foods10010095.
Wang, L., Shi, Y., Wang, R., Su, D., Tang, M.-C., Liu, Y. and Li, Z. (2021). Antioxidant Activity and Healthy Benefits of Natural Pigments in Fruits: A Review. International Journal of Molecular Sciences, [online] 22(9), pp.4945–4945. doi:https://doi.org/10.3390/ijms22094945.
Diego Francisco Cortés-Rojas, Souza, F. and Pereira, W. (2014). Clove (Syzygium aromaticum): a precious spice. Asian pacific Journal of Tropical Biomedicine, [online] 4(2), pp.90–96. doi:https://doi.org/10.1016/s2221-1691(14)60215-x.
Vicidomini, C., Roviello, V. and Roviello, G.N. (2021). Molecular Basis of the Therapeutical Potential of Clove (Syzygium aromaticum L.) and Clues to Its Anti-COVID-19 Utility. Molecules, [online] 26(7), pp.1880–1880. doi:https://doi.org/10.3390/molecules26071880.
Heerasing Takooree, Muhammad Zakariyyah Aumeeruddy, Kannan R.R. Rengasamy, Venugopala, K.N., Rajesh Jeewon, Gokhan Zengin and Mohamad Fawzi Mahomoodally (2019). A systematic review on black pepper (Piper nigrum L.): from folk uses to pharmacological applications. Critical Reviews in Food Science and Nutrition, [online] 59(sup1), pp.S210–S243. doi:https://doi.org/10.1080/10408398.2019.1565489.
Bober, Z., Stępień, A., Aebisher, D., Ożóg, Ł. and Bartusik-Aebisher, D. (2018). Medicinal benefits from the use of Black pepper, Curcuma and Ginger. [online] Ur.edu.pl. Available at: https://repozytorium.ur.edu.pl/items/93173270-eb26-4eca-8073-884d6ffeded0.
Natural polyphenols: An overview. (2017). International Journal of Food Properties. [online] doi:https://doi.org/10.1080//10942912.2016.1220393.
Miyuki Komura, Suzuki, M., Natthanan Sangsriratanakul, Ito, M., Takahashi, S., Md. Shahin Alam, Ono, M., Chisato Daio, Shoham, D. and Takehara, K. (2019). Inhibitory effect of grapefruit seed extract (GSE) on avian pathogens. Journal of Veterinary Medical Science, [online] 81(3), pp.466–472. doi:https://doi.org/10.1292/jvms.18-0754.
Chiaki Tsutsumi-Arai, Kensuke Takakusaki, Arai, Y., Chika Terada-Ito, Yusuke Takebe, Imamura, T., Ide, S., Seiko Tatehara, Tokuyama-Toda, R., Wakabayashi, N. and Kimio Satomura (2019). Grapefruit seed extract effectively inhibits the Candida albicans biofilms development on polymethyl methacrylate denture-base resin. PLOS ONE, [online] 14(5), pp.e0217496–e0217496. doi:https://doi.org/10.1371/journal.pone.0217496.
Zaghlool, S.S., Abo-Seif, A.A., Rabeh, M.A., Usama Ramadan Abdelmohsen and Anwar, B. (2019). Gastro-Protective and Anti-Oxidant Potential of Althaea officinalis and Solanum nigrum on Pyloric Ligation/Indomethacin-Induced Ulceration in Rats. Antioxidants, [online] 8(11), pp.512–512. doi:https://doi.org/10.3390/antiox8110512.
Brown, A.C. (2017). Kidney toxicity related to herbs and dietary supplements: Online table of case reports. Part 3 of 5 series. Food and Chemical Toxicology, [online] 107, pp.502–519. doi:https://doi.org/10.1016/j.fct.2016.07.024.
Yang, X., Wang, R., Zhou, H., Wang, L., Wang, R., Li, H., Tan, B., Wu, Q., Xu, X., Cui, L., Li, Z. and Li, H. (2021). β-hydroxybutyrate Alleviates Learning and Memory Impairment Through the SIRT1 Pathway in D-Galactose-Injured Mice. Frontiers in Pharmacology, [online] 12. doi:https://doi.org/10.3389/fphar.2021.751028.
Tarleton, E.K., Littenberg, B., MacLean, C.D., Kennedy, A.G. and Daley, C. (2017). Role of magnesium supplementation in the treatment of depression: A randomized clinical trial. PLOS ONE, [online] 12(6), pp.e0180067–e0180067. doi:https://doi.org/10.1371/journal.pone.0180067.
Takehiko Yamanashi, Iwata, M., Kamiya, N., Kyohei Tsunetomi, Naofumi Kajitani, Wada, N., Takahiro Iitsuka, Yamauchi, T., Miura, A., Pu, S., Yukihiko Shirayama, Watanabe, K., Duman, R.S. and Kaneko, K. (2017). Beta-hydroxybutyrate, an endogenic NLRP3 inflammasome inhibitor, attenuates stress-induced behavioral and inflammatory responses. Scientific Reports, [online] 7(1). doi:https://doi.org/10.1038/s41598-017-08055-1.
Daiki Kubomura, Ueno, T., Yamada, M., Tsuji, A. and Nagaoka, I. (2017). Effect of N-acetylglucosamine administration on cartilage metabolism and safety in healthy subjects without symptoms of arthritis: A case report. Experimental and Therapeutic Medicine, [online] 13(4), pp.1614–1621. doi:https://doi.org/10.3892/etm.2017.4140.
Journal of the American College of Nutrition. (2018). Cinnamon Consumption Improves Clinical Symptoms and Inflammatory Markers in Women With Rheumatoid Arthritis. [online] Available at: https://www.tandfonline.com/doi/abs/10.1080/07315724.2018.1460733.
Stefan, M., Sharp, M., Gheith, R., Lowery, R.P. and Wilson, J. (2021). The Effect of Exogenous Beta-Hydroxybutyrate Salt Supplementation on Metrics of Safety and Health in Adolescents. Nutrients, [online] 13(3), pp.854–854. doi:https://doi.org/10.3390/nu13030854.
Bailey, D.G. (2016). Predicting clinical relevance of grapefruit-drug interactions: a complicated process. Journal of Clinical Pharmacy and Therapeutics, [online] 42(2), pp.125–127. doi:https://doi.org/10.1111/jcpt.12463.
Husain, I., Bala, K., Khan, I.A. and Khan, S.I. (2021). A review on phytochemicals, pharmacological activities, drug interactions, and associated toxicities of licorice ( Glycyrrhiza sp.). Food frontiers, [online] 2(4), pp.449–485. doi:https://doi.org/10.1002/fft2.110.