Unbloat Reviews 2023: Does This Debloat Pill Really Work?
When you use our links to make product purchases, we receive a commission as part of our affiliate program. For more information,  please refer to our advertising disclaimers.
Debloat fast with Unbloat daily gut-cleansing probiotic.
Bloating affects as much as 30% of the general adult population.[1] It is particularly common among individuals diagnosed with digestive disorders like irritable bowel syndrome.
Herbal remedies for bloating, like turmeric root[2] and peppermint oil,[3] are popular, but scientific research supporting herbal ingredients is limited. As an alternative, many people turn to bloating supplements made with science-backed ingredients like prebiotics and probiotics.
Formulated by board-certified gastroenterologist Dr. Shilpa Mehra, Unbloat is a daily probiotic supplement with digestive enzymes, herbs, and essential nutrients designed to address the common causes of bloating. In addition to seven strains of probiotic bacteria, this bloating supplement contains twenty-one digestive enzymes, prebiotic fiber, six herbs, and four additional nutrients for gut health support.
Contains prebiotics.
Includes seven strains of live bacteria as probiotics.
30-day risk-free guarantee.
A long list of ingredients.
May take 90 days to see results.
Can be expensive.
Unbloat Reviews
Quality
Unbloat is marketed as a doctor-formulated remedy to support healthy digestion. While other formulas contain just a handful of ingredients, these bloating supplements contain 40 ingredients chosen to reduce bloating and support digestive tract health.
Unbloat is gluten-free, free of genetically modified organisms or non-GMO, and dairy-free. It suits individuals following vegan, vegetarian, ketogenic, and paleo diets. These bloating supplements are also free from common allergens, including dairy, soy, nuts, shellfish, sesame, and preservatives.
While Unbloat doesn't appear to be third-party tested, it is manufactured in FDA-registered facilities. Unbloat's manufacturer is certified for Good Manufacturing Practices, or cGMP, and Food Safety Systems or FSCC 22000. The manufacturer is also a member of the International Organization for Standardization, the International Probiotics Association, and the United Natural Products Alliance.
Ingredients Analysis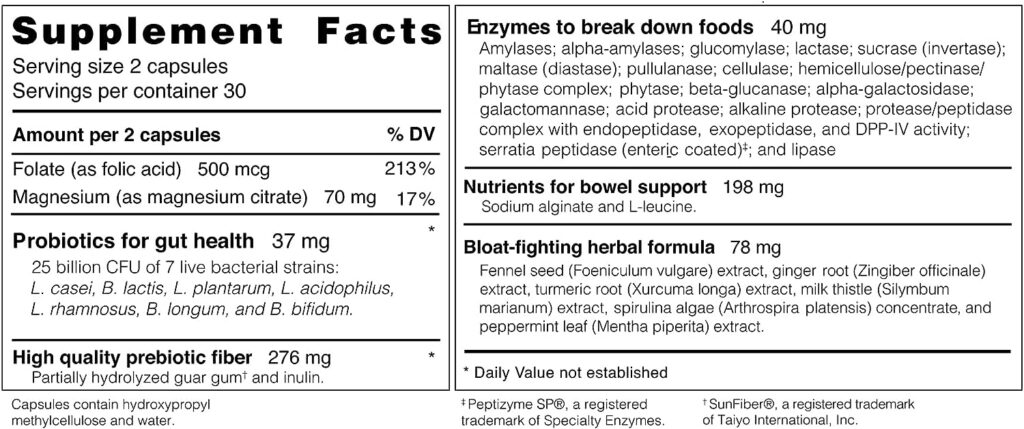 Not only is Unbloat marketed as a fast-acting bloating supplement, but it is formulated to support long-term digestive health. It contains a combination of prebiotics, probiotics, and digestive enzymes, which help the body fully digest food.
The recommended daily serving is two Unbloat capsules within 30 minutes of a meal. Each container has 30 servings.
Folate
Each serving of Unbloat contains 500 micrograms of folate as folic acid. Folic acid, or vitamin B9,[4] supports the formation of red blood cells and the synthesis of DNA.[5] Folate and other B vitamins also play a role in immune system health and support the healthy balance[6] of good bacteria in the gut microbiome.
Magnesium
A two-capsule serving of Unbloat contains 70 milligrams of magnesium as magnesium citrate. Magnesium is an essential mineral that is important in hundreds of bodily functions. Research suggests magnesium supports healthy blood sugar levels,[7] which plays a role in weight management and type 2 diabetes.
Probiotics
Regarding healthy digestion and relief from bloating, probiotics are the star ingredients in Unbloat. This formula contains 27 milligrams per serving of a probiotic blend, or about 25 billion colony-forming units or CFU. This blend contains the following probiotic strains: Lactobacillus casei, Bifidobacterium lactis, Lactobacillus plantarum, Lactobacillus acidophilus, Lactobacillus rhamnosus, Bifidobacterium longum, and Bifidobacterium bifidum.
The most heavily studied probiotic strains are Lactobacillus strains. Several of the strains included in Unbloat have been shown to increase insulin sensitivity,[8] reduce obesity, and improve gastrointestinal barrier function.[9] Bifidobacterium strains have been shown to boost immunity and have been shown to support the proportion of beneficial bacteria[10] in the gut. These bacteria have also shown potential for controlling digestive disorders[11] like inflammatory bowel disease or IBD.
Bacterial balance is key to Unbloat's primary advertised benefit: bloating relief. Dysbiosis, an imbalance in the gut microbiome,[12] is a primary cause of digestive symptoms, including bloating, upset stomach, diarrhea, and constipation.
Prebiotic Fibers
If probiotics are the good bacteria that support a healthy digestive tract, prebiotic fiber is the food that fuels them.[13] Examples of prebiotic fibers[14] include inulin, psyllium husk, wheat bran, and microalgae. Each serving of Unbloat contains 276 milligrams of prebiotic fibers in the form of partially hydrolyzed guar gum and inulin.
Digestive Enzymes
Unbloat contains a blend of 21 digestive enzymes that help the digestive system break down food. These enzymes are part of what helps reduce bloat and gassiness after a large meal. When foods are hard to digest, symptoms like bloating, gas, and abdominal pain are a common result.
While digestive enzymes are common in bloating supplements and other supplements designed to relieve pain from digestive issues like IBS, research is limited. One study from 2017 found that a blend of inositol, beta-glucan, and digestive enzymes helped[15] relieve bloating, gas, and abdominal pain in IBD and IBS patients.
Nutrients For Bowel Support
Each serving of Unbloat contains 198 milligrams of combined sodium alginate and L-leucine. Sodium alginate, a type of biofilm, has been studied for its ability to improve the bioavailability[16] of certain probiotics in the digestive tract. Leucine, a branched-chain amino acid, supports the growth and repair of muscles. In a 2019 study involving dairy calves, leucine supplementation improved gastrointestinal tract development.[17]
Herbal Ingredients
Finally, Unbloat contains 78 milligrams per serving of a blend of other natural ingredients. These include fennel seed, ginger root extract, turmeric root, milk thistle, spirulina algae concentrate, and peppermint leaf extract. Peppermint, for example, is considered first-line therapy for[18] abdominal pain due to bloating in IBS.
Support Research
Supports Healthy Bacterial Balance In The Gut
Both Lactobacillus and Bifidobacterium strains have been shown to support the healthy balance of gut bacteria. Unbloat also contains prebiotics to fuel these bacteria.
Improves Digestive Health
Probiotics have moderate scientific support for improving digestive disorders like IBD and IBS. By improving bacterial balance in the gut, Unbloat may support overall digestive health.
Reduces Bloating
Unbloat contains several strains of probiotic bacteria shown to support healthy bacterial balance as well as prebiotics to feed them. By supporting gut microbial balance and preventing dysbiosis, Unbloat may reduce digestive symptoms, including bloating.
Unbloat Reputation
Unbloat promises a bloat-free life with regular use, and 96% of 605 reviews on the brand website suggest that the product works. Because Unbloat was only released in the past few years, it's a little difficult to find a time-tested, honest review. Reviews on company websites should be taken with a grain of salt because the brand isn't obligated to post negative reviews.
Does Unbloat work? Some customers recommend Unbloat capsules as the best debloat pills they've tried, while others report not seeing a big difference after taking it. Mixed reviews are common with supplements to support digestive health. Individual results vary, and poor eating habits, such as having too many cheat meals or overindulging in certain foods, may limit the benefits.
Is Unbloat worth trying? There's no concrete answer. Unbloat isn't the most recognizable brand out there, and details on the website are limited to product information. While the product claims to be formulated by Dr. Shilpa Mehra, there are no links to scientific studies on the site, and the product doesn't appear to be third-party tested.
However, recent scientific studies on the efficacy of individual ingredients show a high degree of effectiveness for claims made.
Price
The most cost-effective way to buy Unbloat is through the Unbloat website. Here, you can purchase a 30-day supply for $44.99 or a subscription for $38.44. When you sign up for emails and texts, you'll receive a promotional code for 15% off. Unbloat also offers CashBack on qualifying purchases through a prepaid Visa card or a gift card to use as Unbloat credit on your next order, and discounts are available for bulk purchases.
If you start a subscription instead of making a one-time purchase, you can save 12% on a 1-pack, 15% on a 3-pack, or 24% on a 5-pack. Subscriptions are delivered monthly, quarterly, or every five months, depending on the bundle size. Shipping is always free.
Alternatives To Unbloat
Colon Broom
Eliminates toxins to relieve digestive symptoms
Made from organic and natural ingredients
May support weight loss
Lacks third-party testing
May cause bloating at first
Ritual Synbiotic+
3-in-1 formula for gut health
Made with science-backed ingredients
Allergen-free, vegan, and non-GMO
Can be expensive
Limited number of probiotic strains
1MD Complete Probiotics
Formulated for digestive and immune support
Contains 11 live probiotic strains
Includes 90-day money-back guarantee
Some users experience gastrointestinal side effects
Can be expensive
Health Benefits Of Unbloat
Helps The Body Fully Digest Food
Unbloat contains a blend of 21 digestive enzymes to help the body fully break down the food you eat. The human body produces digestive enzymes independently, but if quantities are insufficient, it could compromise digestion. For example, individuals with lactose intolerance[19] don't produce enough lactase enzyme, limiting their ability to digest lactose, the primary sugar in milk.
Relieves Bloating
When foods aren't fully digested, digestive symptoms like bloating, gas, and abdominal pain are common. The digestive enzymes in Unbloat help make sure your body digests foods fully. It also contains probiotics, which support a healthy balance of bacteria in your gut. The herbs in Unbloat work to get rid of gas buildup and to relieve intestinal spasms. Nutrients help support GI function. Gas and bloating are more common when bad bacteria outnumber the good in your gut.
Prevents Gas Buildup
As food moves through the digestive tract, beneficial bacteria help break it down. Certain foods like beans and legumes are particularly difficult to digest and frequently cause gas. By helping the body break down foods fully with digestive enzymes and supporting healthy microbial balance, Unbloat helps prevent gas buildup in the digestive tract.
Supports Overall Digestive Health
All of the ingredients included in Unbloat are chosen to support various aspects of digestive health. Again, the probiotics promote balance in the gut microbiome, and prebiotic fibers provide fuel to keep those bacteria healthy. Digestive enzymes help smooth the digestive process, while other nutrients and herbal ingredients support the healthy function of the gastrointestinal tract.
Potential Side Effects
There is no evidence that Unbloat has conducted clinical trials, so there are no documented side effects. That said, herbal remedies and supplements for digestive system support can have adverse effects. It's best to consult your physician before taking this supplement.
While probiotics have a long history of safe use in foods, their use as a treatment for digestive concerns is somewhat new. A 2015 report suggests that safety outcomes for probiotic supplements are inconsistently reported, and current research is insufficient[20] to answer questions on safety. A more recent 2022 study on probiotics[21] showed them to be safe and effective in 93 patients studied for one year.
Some people taking probiotic supplements experience a temporary increase in bloating[22] and gas — these effects usually subside after a few weeks of use. Some people find that probiotics increase histamine levels,[23] which triggers allergy symptoms. Probiotics should not be given to[24] patients severely immunocompromised or very ill.
Individual response to Unbloat varies, but it appears safe for individuals with allergies to dairy, gluten, soy, GMOs, nuts, sesame, shellfish, and preservatives. Unbloat recommends getting approval from your doctor before taking the supplement if you are pregnant or breastfeeding.
How To Take Unbloat
To tackle bloating right away, take two Unbloat capsules within 30 minutes after eating your largest meal of the day. The digestive enzymes in Unbloat will help your body fully digest foods to help you debloat fast. Take an extra capsule as needed when eating heavy or hard-to-digest foods.
If you tend to eat smaller meals, you can take one Unbloat pill after lunch and one after dinner. You should take Unbloat daily for at least six to eight weeks to see results.
Unbloat Customer Reviews – What Do Real Users Say?
Before you buy Unbloat or another supplement, it's important to check out honest customer reviews. An Unbloat review can tell you whether Unbloat helps with bloating or is just another generic probiotic supplement that doesn't work.
On Unbloat's website, the product is rated 4.7 out of five stars with over 605 reviews. It's hard to say whether Unbloat omits negative reviews, however. The product has fewer than 50 reviews on Amazon and is rated 3.4 out of 5 stars.
I've struggled with IBS for the past few years and have tried eliminating everything from my diet. I've tried working out more and drinking more water. I have tried other products that have digestive enzymes and suplements with herbs like fennel, but unbloat has been SO different. THANK YOU for creating this product. It has all the ignredients ive been looking for and that my doctor recommends and has helped so much over the past 6 weeks.

Carolyn H.
I honestly expected more results given the price. They're pretty decent. Sometimes I'll still feel bloated and other times I won't. It's a hit or miss.

Sam
Final Thought
Unbloat claims to support smoother digestion and relief from bloating. By taking Unbloat capsules after a large meal, you can prevent bloating symptoms before they hit. When taken regularly, you may experience relief from other digestive issues like gas, difficult bowel movements, and digestive upset.
As is true with most probiotics, Unbloat users may take six to eight weeks to see significant improvements in their digestive health and bowel regularity. The downside is that Unbloat's return policy only applies to your first order. To qualify for a full refund, you must request a return within 30 days of delivery of your first purchase.
It's also worth noting that while many Unbloat ingredients are supported by scientific research, the brand doesn't provide links to research or clinical trials on its website. Neither does Unbloat appear to be third-party tested.
Results are never guaranteed when taking digestive supplements, and individual results vary. That said, Unbloat has many positive reviews. To improve your chances of successfully relieving bloating issues with Unbloat, pair it with a healthy diet and exercise regimen.
Frequently Asked Questions
Can I take Unbloat supplements with other medications?
Maybe. Unbloat is safe to take with other supplements, but you should check with your physician before combining it with your medications.
Should you take Unbloat every day?
Yes. You should take two Unbloat capsules daily after your largest meal of the day. Alternatively, you can take one pill after lunch and one after dinner.
How long does it take for Unbloat to work?
Unbloat offers both fast-acting and long-term bloating relief. You should experience reduced gas and improved bowel regularity in one to two days. It may take 10 to 14 days to experience significant relief from bloating.
Is Unbloat safe?
Unbloat is a doctor-formulated product that appears to be safe. The formula contains science-backed ingredients, but the Unbloat website doesn't provide links to research or clinical trials. Unbloat does not appear to be third-party tested.
Resources
Mari, A., Fadi Abu Backer, Mahmud Mahamid, Amara, H., Carter, D., Boltin, D. and Dickman, R. (2019). Bloating and Abdominal Distension: Clinical Approach and Management. Advances in Therapy, [online] 36(5), pp.1075–1084. doi:https://doi.org/10.1007/s12325-019-00924-7.
Attilio Giacosa, Riva, A., Petrangolini, G., Allegrini, P., Fazia, T., Bernardinelli, L., Peroni, G. and Mariangela Rondanelli (2022). Beneficial Effects on Abdominal Bloating with an Innovative Food-Grade Formulation of Curcuma longa and Boswellia serrata Extracts in Subjects with Irritable Bowel Syndrome and Small Bowel Dysbiosis. Nutrients, [online] 14(3), pp.416–416. doi:https://doi.org/10.3390/nu14030416.
Cash, B.D., Epstein, M. and Shah, S.M. (2015). A Novel Delivery System of Peppermint Oil Is an Effective Therapy for Irritable Bowel Syndrome Symptoms. Digestive Diseases and Sciences, [online] 61(2), pp.560–571. doi:https://doi.org/10.1007/s10620-015-3858-7.
Nih.gov. (2016). Office of Dietary Supplements – Folate. [online] Available at: https://ods.od.nih.gov/factsheets/Folate-HealthProfessional/
Lei, J., Ren, F., Li, W., Guo, X., Liu, Q., Gao, H., Pang, Y., He, Y., Guo, J. and Zeng, J. (2022). Use of folic acid supplementation to halt and even reverse the progression of gastric precancerous conditions: a meta-analysis. BMC Gastroenterology, [online] 22(1). doi:https://doi.org/10.1186/s12876-022-02390-y.
Khandkar Shaharina Hossain, Sathya Amarasena and Shyamchand Mayengbam (2022). B Vitamins and Their Roles in Gut Health. Microorganisms, [online] 10(6), pp.1168–1168. doi:https://doi.org/10.3390/microorganisms10061168.
Uwe Gröber, Schmidt, J. and Klaus Kisters (2015). Magnesium in Prevention and Therapy. Nutrients, [online] 7(9), pp.8199–8226. doi:https://doi.org/10.3390/nu7095388.
Bagarolli, R.A., Tobar, N., Oliveira, A.G., Tiago Gomes Araújo, Carvalho, B.M., Rocha, G.Z., Juliana Falcato Vecina, Calisto, K.L., Dioze Guadagnini, Prada, P.O., Andrey dos Santos, Sara T.O. Saad and Mario J.A. Saad (2017). Probiotics modulate gut microbiota and improve insulin sensitivity in DIO mice. Journal of Nutritional Biochemistry, [online] 50, pp.16–25. doi:https://doi.org/10.1016/j.jnutbio.2017.08.006.
Xue, L., He, J., Gao, N., Lu, X., Li, M., Wu, X., Liu, Z., Yao, J., Liu, J., Xu, J. and Geng, Y. (2017). Probiotics may delay the progression of nonalcoholic fatty liver disease by restoring the gut microbiota structure and improving intestinal endotoxemia. Scientific Reports, [online] 7(1). doi:https://doi.org/10.1038/srep45176.
Kalam, A., Sarker, M., Li, T. and Yin, J. (2018). Probiotic Species in the Modulation of Gut Microbiota: An Overview. BioMed Research International, [online] 2018, pp.1–8. doi:https://doi.org/10.1155/2018/9478630.
Srutkova, D., Schwarzer, M., Hudcovic, T., Zuzana Jiraskova Zakostelska, Vladimír Dráb, Španová, A., Bohuslav Rittich, Kozakova, H. and Schabussova, I. (2015). Bifidobacterium longum CCM 7952 Promotes Epithelial Barrier Function and Prevents Acute DSS-Induced Colitis in Strictly Strain-Specific Manner. PLOS ONE, [online] 10(7), pp.e0134050–e0134050. doi:https://doi.org/10.1371/journal.pone.0134050.
Wei, L., Singh, R., Ro, S. and Ghoshal, U.C. (2021). Gut microbiota dysbiosis in functional gastrointestinal disorders: Underpinning the symptoms and pathophysiology. JGH open, [online] 5(9), pp.976–987. doi:https://doi.org/10.1002/jgh3.12528.
Vandeputte, D., Falony, G., Vieira-Silva, S., Wang, J., Sailer, M., Theis, S., Verbeke, K. and Raes, J. (2017). Prebiotic inulin-type fructans induce specific changes in the human gut microbiota. Gut, [online] 66(11), pp.1968–1974. doi:https://doi.org/10.1136/gutjnl-2016-313271.
Dorna Davani-Davari, Manica Negahdaripour, Iman Karimzadeh, Mostafa Seifan, Milad Mohkam, Seyed Jalil Masoumi and Aydin Berenjian (2019). Prebiotics: Definition, Types, Sources, Mechanisms, and Clinical Applications. Foods, [online] 8(3), pp.92–92. doi:https://doi.org/10.3390/foods8030092.
Gianni (2017). Beta-glucan, inositol and digestive enzymes improve quality of life of patients with inflammatory bowel disease and irritable bowel syndrome. [online] European Review. Available at: https://www.europeanreview.org/article/13006
Zhou, J., Li, M., Chen, Q., Li, X., Chen, L., Dong, Z., Zhu, W., Yang, Y., Liu, Z. and Chen, Q. (2022). Programmable probiotics modulate inflammation and gut microbiota for inflammatory bowel disease treatment after effective oral delivery. Nature Communications, [online] 13(1). doi:https://doi.org/10.1038/s41467-022-31171-0.
Cao, Y., Liu, S., Yang, X., Guo, L., Cai, C. and Yao, J. (2019). Effects of dietary leucine and phenylalanine on gastrointestinal development and small intestinal enzyme activities in milk-fed holstein dairy calves. Bioscience Reports, [online] 39(1). doi:https://doi.org/10.1042/bsr20181733.
Vanuytsel, T., Tack, J. and Boeckxstaens, G.E. (2014). Treatment of abdominal pain in irritable bowel syndrome. Journal of Gastroenterology, [online] 49(8), pp.1193–1205. doi:https://doi.org/10.1007/s00535-014-0966-7.
Margherita Di Costanzo and Roberto Berni Canani (2018). Lactose Intolerance: Common Misunderstandings. Annals of Nutrition and Metabolism, [online] 73(Suppl. 4), pp.30–37. doi:https://doi.org/10.1159/000493669.
Doron, S. and Snydman, D.R. (2015). Risk and Safety of Probiotics. Clinical Infectious Diseases, [online] 60(suppl_2), pp.S129–S134. doi:https://doi.org/10.1093/cid/civ085.
Wauters, L., Slaets, H., Kim De Paepe, Ceulemans, M., Wetzels, S., Karlien Geboers, Toth, J., Thys, W., Dybajlo Raf, Daan Walgraeve, Erik, Verbeke, K., Tack, J., Van, T., Hellings, N. and Vanuytsel, T. (2021). Efficacy and safety of spore-forming probiotics in the treatment of functional dyspepsia: a pilot randomised, double-blind, placebo-controlled trial. The Lancet Gastroenterology & Hepatology, [online] 6(10), pp.784–792. doi:https://doi.org/10.1016/s2468-1253(21)00226-0.
Nancy Toedter Williams (2010). Probiotics. American Journal of Health-system Pharmacy, [online] 67(6), pp.449–458. doi:https://doi.org/10.2146/ajhp090168.
Benoit Pugin, Barcik, W., Westermann, P., Heider, A., Wawrzyniak, M., Hellings, P.W., Akdis, C.A. and Liam O'Mahony (2017). A wide diversity of bacteria from the human gut produces and degrades biogenic amines. Microbial Ecology in Health and Disease, [online] 28(1), pp.1353881–1353881. doi:https://doi.org/10.1080/16512235.2017.1353881.
Wilkins T;Sequoia J (2017). Probiotics for Gastrointestinal Conditions: A Summary of the Evidence. American family physician, [online] 96(3). Available at: https://pubmed.ncbi.nlm.nih.gov/28762696/.