4 Overnight Oats Recipes For Weight Loss: Easy To Make At Home 2023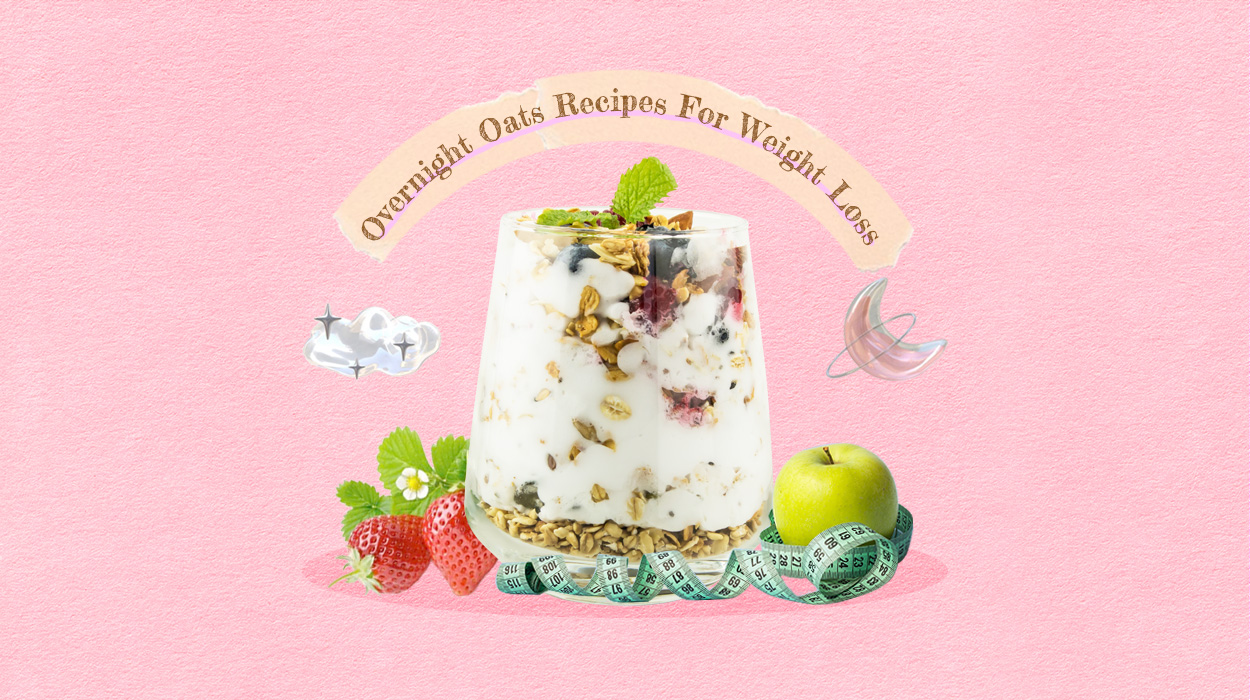 Overnight oats with strawberries for weight loss.

Photo: Le Ho
Since the 1960s, oats have been promoted as heart-healthy. Oats contain a dietary fiber known as beta-glucan, which has cholesterol-lowering effects. Beta-glucans[1] are effective in preventing cardiovascular disease and type 2 diabetes.
Oats have also been linked with weight management benefits since they are a low-glycemic food that positively affects blood glucose levels after eating. In recent years overnight oats have become more popular as a nutritional, simple, and satisfying meal option for those interested in improving health and achieving weight loss.
The nutritional components of oats are unique compared to other whole grains. They contain high-quality protein, unsaturated fats, soluble fiber, micronutrients, and an impressive list of phytochemicals[2] offering many health benefits. Combining oats with foods like peanut butter adds health benefits. This article explores oats as a delicious and nutritious breakfast, plus an overnight oats recipe for weight loss you will love.
4 Best Overnight Oats Recipes For Weight Loss
Peanut Butter And Berry Overnight Oats.
Blueberry Plus Yogurt Overnight Oats.
Protein Powder Banana Overnight Oats.
Lazy Not-So Overnight Oats.
Healthy Overnight Oats Recipes For Weight Loss
Featured Partner Offer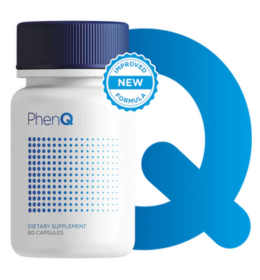 PhenQ
Helps to burn fat
Crushes food cravings
Boosts energy and balances mood
High-quality formula
Money Back Guarantee and Free US Shipping
Peanut Butter And Berry Overnight Oats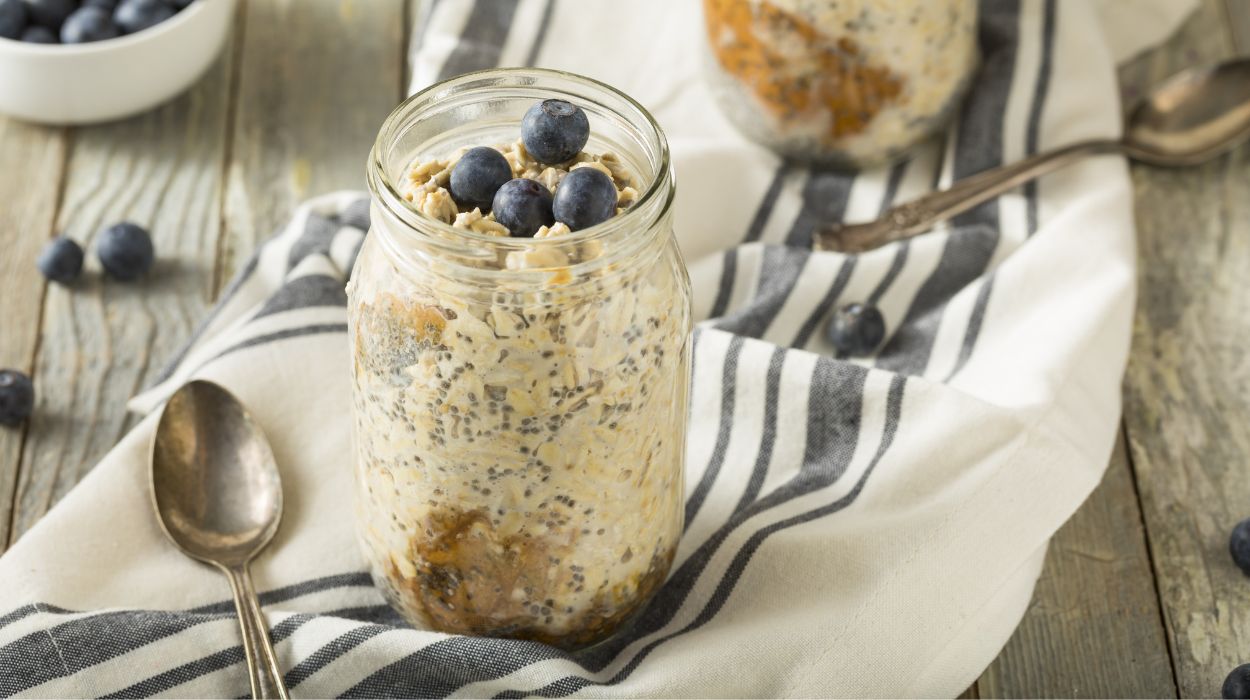 Peanut butter contains protein and healthy fats. When added to overnight oats, it makes it more satisfying. This version is plant-based, so it requires non-dairy milk. This simple overnight oats recipe for weight loss with peanut butter has only five ingredients, including rolled oats, unsweetened almond milk, and chia seeds.
To make this recipe gluten-free, you can use certified gluten-free oats. If you prefer a lower-fat version, add a small amount of peanut butter just for the flavor and go for other ingredients, or choose many different overnight oat recipes. People with peanut allergies can substitute almond butter. Top it off with blueberries or strawberries for added nutrients.
Blueberry Plus Yogurt Overnight Oats
Blueberries offer essential nutrients and are high in flavonoids[4] with antioxidant properties that may protect your cells from damage. Greek yogurt is higher in protein[5] and lower in sugar than regular plain yogurt. This recipe includes rolled oats, blueberries, vanilla extract, unsweetened almond milk, and plain Greek yogurt. That is a winning combination of ingredients and a healthy breakfast.
You can use pure maple syrup as a natural sweetener versus processed sugar to make overnight oats healthy. But don't forget, maple syrup also includes high calories. Finally, walnuts add more healthy fats, making this one of the best overnight oats recipes for weight loss.
Protein Powder Banana Overnight Oats
Bananas plus protein powder in your overnight oats make this the perfect breakfast for active folks. Bananas naturally contain biological compounds that have anti-inflammatory[7] effects, which can aid recovery from workouts.
This healthy overnight oats recipe for weight loss is packed with essential nutrients and is great for pre or post-workout. Adding protein powder and banana to a basic recipe consisting of rolled oats and milk is a simple way to fuel your body and help it recover from exercise. You can use several options or substitutions to tailor this meal to your specific dietary needs. Your choice of protein powder and milk could easily make it vegan.
Lazy Not-So Overnight Oats
This author is often too lazy to prepare overnight oats ahead of time. This easy overnight oats recipe for weight loss is quick to make. Half a cup of rolled oats, one cup of frozen blueberries, and flax or hemp milk are just enough to cover everything.
Combine in a bowl, cover the bowl, and wait 30 to 40 minutes. When the oats are soft and the blueberries defrosted, top with cinnamon, mix, and enjoy.
Our author recipe!
What Are Overnight Oats?
Incorporating oats into your diet is a healthy choice, and oatmeal is the most common way to consume them. Traditional oatmeal is cooked on the stovetop or in the microwave. A warm breakfast was usually topped with brown sugar and some fruit. Modern times and busy schedules call for another option, overnight oats.
Overnight oatmeal is uncooked (usually) and consists of rolled oats combined with liquid and other ingredients like fruit, nuts, or seeds. Then, they are put into an airtight container, like a mason jar, to refrigerate overnight where the oats soak up the liquid. In the morning, you have an easy, healthy, and delicious breakfast option that is travel-ready.
Benefits Of Overnight Oats
Oats contain essential daily nutrients, including dietary fiber, unsaturated fats, starch, and protein. Also, they are whole grains that boast a significant amount of micronutrients[9] like vitamin E, folates (a B vitamin), zinc, and iron, to name a few.
Beta-glucan is a viscous fiber predominant in oats capable of holding large amounts of water. It has been linked in numerous studies to slow gastric emptying, causing a feeling of fullness and satiety. Health markers like reduced body weight,[10] BMI, and body fat are associated with beta-glucan intake.
Increasing evidence shows that oats promote healthy weight management and offer essential nutrients required for optimal health and body function.
Different Types Of Oats
There are several different types of oats:[11]
Old-fashioned rolled oats are minimally processed, using a roller to flatten them. This is the most used overnight oat type because it softens nicely in liquid overnight.
Steel-cut oats are more coarse because they are chopped, not flattened. This type softens better when cooked, so it is not the best option for overnight oatmeal but could be used. They cook for about 20 to 30 minutes.
Quick-cooking oats are thinner and cook more quickly than old-fashioned oats.
Instant oats are thinner than quick oats but retain the nutritional value of the aforementioned oats. They cook the most quickly of all the oats.
Whole oat groats are harvested, cleaned, and shelled from their outer hulls. They take the longest to cook.
There are also gluten-free oats on the market. Oats are naturally gluten-free, but they may have a risk of gluten contamination during the production process. Therefore, manufacturers use gluten-free labels if they are sure there is no gluten contamination according to several guidelines.
What Are The Components Of Overnight Oats?
A typical overnight oats recipe, in addition to oats, would include the:
Liquid – Your choice of milk or non-dairy milk alternatives like almond or coconut milk, even oat milk, though it may seem redundant. Yogurt adds a creamy consistency, while Greek yogurt increases the protein level.
Fresh fruit (or frozen) with your oats adds nutritional benefits like fiber and essential vitamins. Bananas, berries, and apples are popular oat companions.
Additions to increase the nutritional value or make it fancy.
Pumpkin seeds, sunflower seeds, flax, hemp, and chia seeds are other options to include since they add healthy fats and fiber.
Nut butter or nuts add healthy fats, protein, and fiber.
Toppings such as cacao nibs, chocolate chips, or coconut can make this morning meal seem like a dessert.
Natural sweeteners like pure maple syrup, agave, or honey if desired.
Spices such as vanilla extract, cinnamon, cardamom, ginger, or nutmeg add depth and different flavor combinations to your oats to keep them interesting.
How To Make Overnight Oats For Weight Loss
Eating more whole foods, including whole grains like oats, is associated with aiding weight loss. This section will cover how to prepare low-calorie overnight oatmeal for weight loss. You may think this version requires cutting out all the tasty ingredients, but that is not necessarily true. The flavor combinations are endless, even when considering a healthy overnight oats recipe for weight loss.
Choose And Prepare Your Ingredients For Overnight Oats
To prepare overnight oats, some planning and meal prep may be necessary to switch out some of your usual cooking components. Using unsweetened almond milk with less than half the calories of skim milk is a good switch for low-calorie options. Also, using just fruit instead of added sweeteners is another option to cut calories when preparing overnight oats for weight loss recipes.
Nut butter adds fiber and protein but is also calorie-dense, averaging around 90 to 110 calories per tablespoon, depending on your type. Measure nut butter carefully to keep your overnight oats low-calorie. Consider topping with walnuts or sunflower seeds to increase healthy fats and essential nutrients. Nuts are whole foods with fewer calories than nut butter in the same volume. Nut butter is healthier when it is 100% all-natural with no added ingredients.
Chia seeds are a mainstay in overnight oats, plus they offer health benefits[12] and add a creamy texture when soaked. Chia seeds are an excellent source of healthy fats, protein, and dietary fiber. They are heart-healthy, known to lower cholesterol, and positively affect high blood pressure, which helps cardiovascular and metabolic health. They also possess antioxidant properties that can positively affect cellular health.
Studies show cinnamon[13] has a positive effect on glucose levels and obesity. Therefore, it is a super addition to weight management meals. Ginger[14] is known to have anti-inflammatory and antibacterial effects on the body. More studies will be necessary to determine spices' medicinal properties and health benefits, but they definitely add flavor to your meals.
Now You Are Ready To Make Overnight Oats
To begin, you will need an airtight container, like a mason jar. For basic overnight oats, you only need rolled oats and liquid. However, additions like chia seeds and spices such as cinnamon increase the health benefits of the dry ingredients. The jars can be prepared and stored for up to five days without the wet ingredients.
The wet components include unsweetened almond milk, fruit, and yogurt (Greek for extra protein) will be added when ready to go in the fridge and soak overnight. A mixture of bananas, apples, or berries offers essential vitamins and minerals to this healthy breakfast. It only takes a few minutes to prepare, and then it is put into the fridge overnight, where it becomes breakfast food. That is a simple overnight oats recipe for weight loss.
Weight loss overnight oats nutrition per serving will highly depend on your choice of ingredients. A simple overnight oats recipe containing rolled oats, almond milk, chia seeds, berries, yogurt, and spices would average 200-300 calories and offer many essential daily nutrients required for an adult.
This container meal is an easy and healthy option for breakfast compared to other low-calorie options such as protein pancakes or egg whites with greens. There is no cooking required for overnight oats; they just soak overnight. They take just a few minutes to make and can be prepared in advance, so they are a time-saving meal.
How To Store Overnight Oats
Overnight oats can be stored in the cupboard with the dry ingredients for up to 5 days. Once you add the wet ingredients, you must refrigerate overnight oats. They should be in an airtight container with a lid like a mason jar, which has become the go-to for this meal because they travel well and have a wide mouth for easy access. The full combination of dry and wet ingredients will not spoil in the fridge for up to five days if covered properly.
Glass jars do not stain or absorb odors. Conversely, plastic containers do not break, and non-metal tops do not rust. Chalk it up to the chef's preference. If you are not planning to take your overnight oats to go, then any container will suffice as long as it fits into your fridge. Even a metal bowl with a cover or plastic wrap over it would be fine. A 12 to 16-ounce container equals one serving size per meal.
Featured Partner Offer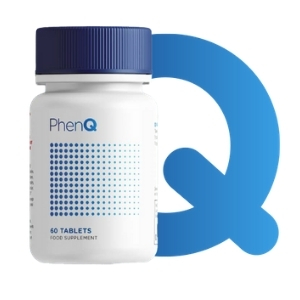 PhenQ
Enjoy 10% Off & Free Shipping Code: "FIRST10"
Applied at checkout
Can Overnight Oats Help You Lose Weight?
These are important items to remember when your goal is weight loss. Your diet choices are just as significant as exercising regularly, drinking enough water, and getting proper rest. We cannot state that overnight oats will specifically help you lose weight without incorporating the factors above.
Oats are linked to improving health markers associated with obesity. They contain essential nutrients and phytochemicals that positively affect blood sugar following meals and cholesterol levels. Beta-glucan is associated with improving the gut microbiome and reducing body weight and BMI, which shows promise in the fight against obesity. There is evidence[15] that whole grains, including oats, are part of a healthy diet and helpful in weight management for overweight people with diabetes.
As part of a balanced diet, overnight oats prepared with healthy ingredients can help improve your health and may aid weight loss. It is low in calories and contains fiber, healthy fats, complex carbohydrates, and protein. When made with Greek yogurt, nut butter, or protein powder, you can easily increase your protein intake, which is a component of weight management.
While healthy lifestyle management is the most advisable path to weight management, some people find assistance using fat-burning supplements or appetite suppressants. Taking supplements as directed is essential to your health and safety. Contacting your health provider is recommended if weight management becomes an issue.
Conclusion
Oatmeal recipes have changed over the years. Traditionally oats were cooked and served warm. Oats soaked overnight create a popular cold version for many reasons, including convenience and health benefits. Overnight oatmeal is simple to make ahead of time and the perfect breakfast for busy people who want to eat a healthy meal without much fuss.
Rolled oats are the best type of oat to use since they maintain a good texture after soaking overnight and do not require cooking to soften them. Instant oats or quick-cooking oats can be used but will have different consistencies and textures – The nutritional value is the same regardless of oat type.
How you prepare overnight oats for a healthy meal is based on the kinds of ingredients used. Use fruit, seeds, or nuts with unsweetened plant milk for a healthy meal. These are lower-calorie and nutrient-dense foods.
Research shows that oats containing a water-hoarding viscous fiber, beta-glucan, can help promote weight loss. Oats are also linked to improved health markers such as decreased blood cholesterol and regulated blood sugar levels, which help prevent cardiovascular disease and type 2 diabetes.
Athletes use carbohydrate loading, like oatmeal, to increase energy output for optimal performance, but it can result in water retention. Eating oats may result in water retention due to beta-glucan, so these tips may help you lose water weight if that becomes problematic.
Maintaining a healthy lifestyle, including regular exercise, eating whole foods, drinking water, managing your stress, and sleeping well are all necessary to lose weight. Oats can be a healthy choice but not diet food alone. Experts recommend long-term habits and changing your lifestyle for the best results. No one food or diet fits all.
Frequently Asked Questions
Is overnight oats low-carb?
Overnight oats are not low-carb. They are full of complex carbohydrates essential to good health and body function. However, the amount of carbohydrates depends on the ingredients used.
What is the portion size for overnight oats?
A 12- to 16-ounce container is recommended as one serving size of overnight oats for adults.
Does oats with water reduce weight?
Oats with water instead of milk would reduce the calorie count. Reducing calories is helpful for weight loss.
Do overnight oats have too many calories?
A basic overnight oats recipe is approximately 200 to 300 calories depending on the ingredients used. Add-ins like peanut butter, natural sweeteners, and Greek yogurt can increase the calorie count.
Can I eat oatmeal three times a day and lose weight?
It is not recommended that one food is used as a diet food or to lose weight. A balanced diet consists of a variety of foods for essential nutrients. Dietitians recommend oats three times per week.
Do you eat overnight oats cold or hot?
Overnight oats are usually consumed cold but can be warmed if you prefer. Make sure to use the appropriate container for the type of heat element you choose.
Resources
Henrion, M., Francey, C., Kim-Anne Lê and Lamothe, L. (2019). Cereal B-Glucans: The Impact of Processing and How It Affects Physiological Responses. Nutrients, [online] 11(8), pp.1729–1729. doi:https://doi.org/10.3390/nu11081729.
Peter Francis Raguindin, Oche Adam Itodo, Stoyanov, J., Dejanovic, G.M., Gamba, M., Eralda Asllanaj, Minder, B., Bussler, W., Metzger, B., Muka, T., Marija Glišić and Kern, H. (2021). A systematic review of phytochemicals in oat and buckwheat. Food Chemistry, [online] 338, pp.127982–127982. doi:https://doi.org/10.1016/j.foodchem.2020.127982.
Dana (2015). Peanut Butter Overnight Oats (5 Ingredients!). [online] Minimalist Baker. Available at: https://minimalistbaker.com/peanut-butter-overnight-oats/
Kalt, W., Cassidy, A., Howard, L.R., Krikorian, R., Stull, A.J., Tremblay, F. and Raúl Zamora-Ros (2020). Recent Research on the Health Benefits of Blueberries and Their Anthocyanins. Advances in Nutrition, [online] 11(2), pp.224–236. doi:https://doi.org/10.1093/advances/nmz065.
Bridge, A.D., Joseph Alexander Brown, Snider, H., Nasato, M., Ward, W.E., Roy, B.D. and Josse, A.R. (2019). Greek Yogurt and 12 Weeks of Exercise Training on Strength, Muscle Thickness and Body Composition in Lean, Untrained, University-Aged Males. Frontiers in Nutrition, [online] 6. doi:https://doi.org/10.3389/fnut.2019.00055.
Bradley, B. (2022). Blueberry Overnight Oats with Greek Yogurt – Mediterranean Living. [online] Mediterranean Living. Available at: https://www.mediterraneanliving.com/blueberry-overnight-oats-with-greek-yogurt/
Nieman, D.C., Gillitt, N.D., Wang, S., Esposito, D. and Ramamoorthy, S. (2018). Metabolic recovery from heavy exertion following banana compared to sugar beverage or water only ingestion: A randomized, crossover trial. PLOS ONE, [online] 13(3), pp.e0194843–e0194843. doi:https://doi.org/10.1371/journal.pone.0194843.
Yarro, L. (2021). Protein Overnight Oats (5 Minute Prep!) | Lemons + Zest. [online] Lemons + Zest. Available at: https://lemonsandzest.com/peanut-butter-banana-protein-overnight-oats/
Prasad Rasane, Jha, A., Latha Sabikhi, Kumar, A. and V. Unnikrishnan (2013). Nutritional advantages of oats and opportunities for its processing as value added foods – a review. Journal of Food Science and Technology, [online] 52(2), pp.662–675. doi:https://doi.org/10.1007/s13197-013-1072-1.
The effect of cereal Β‐glucan on body weight and adiposity: A review of efficacy and mechanism of action. (2023). Critical Reviews in Food Science and Nutrition. [online] doi:https://doi.org/10.1080//10408398.2021.1994523.
Zhang, K., Dong, R., Hu, X., Ren, C. and Li, Y. (2021). Oat-Based Foods: Chemical Constituents, Glycemic Index, and the Effect of Processing. Foods, [online] 10(6), pp.1304–1304. doi:https://doi.org/10.3390/foods10061304.
Melo, D., Thelma and P.P, B. (2019). Chia seeds: an ancient grain trending in modern human diets. Food & Function, [online] 10(6), pp.3068–3089. doi:https://doi.org/10.1039/c9fo00239a.
Seyed Mohammad Mousavi, Rahmani, J., Hamed Kord‐Varkaneh, Sheikhi, A., Bagher Larijani and Esmaillzadeh, A. (2020). Cinnamon supplementation positively affects obesity: A systematic review and dose-response meta-analysis of randomized controlled trials. Clinical Nutrition, [online] 39(1), pp.123–133. doi:https://doi.org/10.1016/j.clnu.2019.02.017.
Vázquez-Fresno, R., Remus, A., Tanvir Sajed, Tuviere Onookome-Okome, Wishart, N.A. and Wishart, D.S. (2019). Herbs and Spices- Biomarkers of Intake Based on Human Intervention Studies – A Systematic Review. Genes and Nutrition, [online] 14(1). doi:https://doi.org/10.1186/s12263-019-0636-8.
Li, X., Cai, X., Ma, X., Jing, L., Gu, J., Bao, L., Li, J., Xu, M., Zhang, Z. and Li, Y. (2016). Short- and Long-Term Effects of Wholegrain Oat Intake on Weight Management and Glucolipid Metabolism in Overweight Type-2 Diabetics: A Randomized Control Trial. Nutrients, [online] 8(9), pp.549–549. doi:https://doi.org/10.3390/nu8090549.
More from Weight Management